Recommend Helsinki MArathon?
Recommend Helsinki Marathon to your friends and earn running coaching from professionals!
We WANT TO GROW HELSINKI MARATHON TO BECOME THE BIGGEST MARATHON IN FINLAND, AND NEED YOUR HELP IN THAT!
If you have loved running at Helsinki Marathon, why not recommending it to your friends as well? Together with our coaching partner Runner's High we offer 10 € running coaching and event gift cards for every registration made with your referral code, if you get at least three persons to sign up for the event. See the more detailed terms and conditions of the campaign at the bottom of the page.
Don't hesitate to contact us by email at info@helsinkimarathon.fi if you have any questions!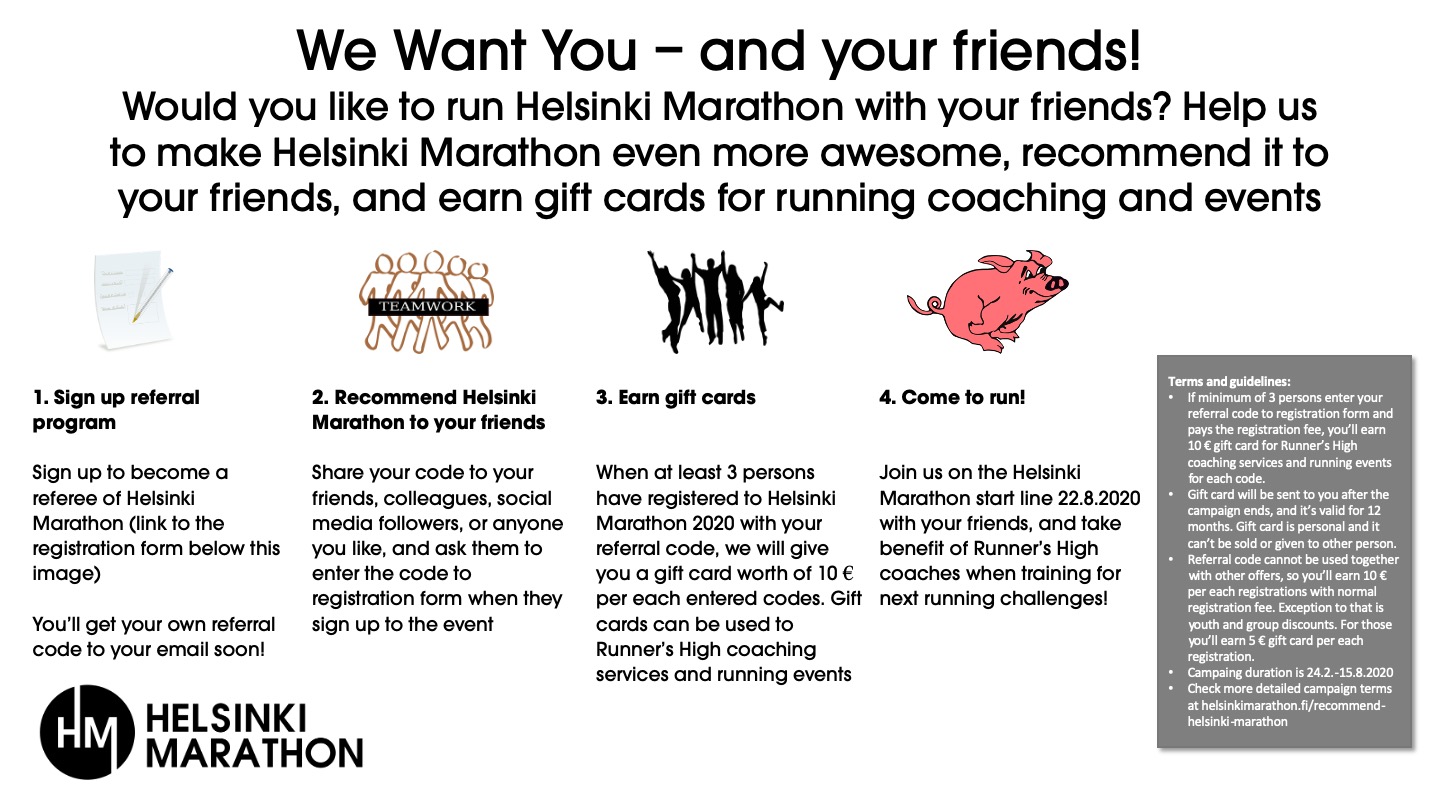 Terms and conditions of the campaign:
If at least 3 persons enter your referral code to registration form of Helsinki Marathon and pay their registration fee, you'll get 10 € gift card for Runner's High coaching services and running events* per each registered participant. 
Gift card will be emailed to you at latest two weeks after the campaign ends, and it's valid for 12 months to all the new registrations made after receiving the gift card. Gift card is for personal use only, and it cannot be sold or give to other person.
Referral code cannot be combined with other offers. You'll get value for your gift card only with registarations made with the normal registartion fee. Exception to that is youth and group discounts. For the registrations made with them you'll earn 5 € to your gift card per paid registration. Referral code cannot be added to the old registration, and the benefit is given also to new registration made with the referral code. Referrals own registration is not accepted to earn gift card.
Campaign duration 24.2.-15.8.2020
*Runner's High's running events in 2020 are: Helsinki Night Trail, Helsinki Central Park Run, Haaga Run, Helsinki Twilight Run & Walk, Nuuksio Night Trail and Helsinki Halloween Run.
If you have any questions, don't hesitate to contact us by email: info@helsinkimarathon.fi